I am a Pinterest addict, hands down. But I didn't start out that way, when I first signed up for the social networking image site. In fact, I could have taken or left it in the first months. Often, I never even looked at my account for weeks at a time. Eventually, I gave it up altogether, until I found my way back a handful of months ago.
What was it that finally made me go gaga for the fastest growing social media site on the web? The many applications for improving health through proper diet, exercise and general feel-good motivation. All things that I had been seeking, and found in the most unexpected place I could have imagined.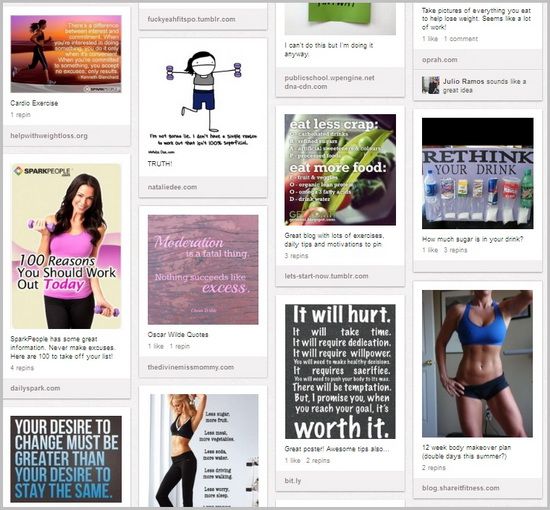 Many people are now using Pinterest to help and fuel their motivation for weight loss. Whether it is a small diet to help you fit into that dress, or you are making lifelong lifestyle changes in the way you treat your body, here are five ways that you can pin your way to a new you.
1. Find Nutritious Recipes
There is so much food on Pinterest, it is a meal-lover's dream. But when you think of what you have seen most of, your mind is probably filled with pictures of cakes, cookies, cheesy dripping concoctions and bacon wrapped around everything you can imagine. To be fair, there is an awfully lot of that, which isn't exactly going to help you drop the pounds. But you would be surprised by how many balanced and even healthy dishes you can find there, as well. At the very least, you can find dishes that will push you to prepare food at home. Which will keep you away from calorie and fat packed fast food and restaurant fare that is heavy on your waistline and your wallet. The most common dishes to find? Super easy crock pot recipes perfect for even the most busy eater.
2. Find New Fitness Routines
Did you know just ten minutes of exercise a day can have a real impact on your health? Not only does it help you to build fitness and stamina, but it can really help boost muscles or burn fat. Especially using certain workout methods, like kettlebell training, swimming or just basic strength routines. Pinterest is chock full of amazing resources for improving (or just spicing up) your usual exercise plan. Most linked to reliable resources where you can double check the data.
3. Read Health Articles
We could all use a little more information on health. Especially with the modern health risks of convenience over self sufficiency that are creating a world wide obesity epidemic, an increase in critical conditions like cancer, diabetes, heart disease and various absolutely ridiculous dieting myths. Pinterest has a lot of health articles linked, which can give you valuable information that could potentially increase your own level of well being.
4. Learn To Reduce Stress
Another thing you might find Pinterest is relaxing. If not, you can find plenty of things that will show you how to let yourself go and flow in the moment. Reducing stress is an important part of dieting, believe it or not. When we have high levels of stress and anxiety we tend to overeat, make bad food choices, exercise less and feel more fatigued. Learning to calm yourself is the first step to having a better shot at burning off those pounds.
5. Create An Inspiration Board
Everyone needs to stay motivated. Images are probably one of the best ways to do that, and many trainers suggest making a collage of inspiring photos to keep you going. Pinterest lets you do this digitally, with a virtually endless supply of pictures. You can have quotes, photos of people, quick exercises or calorie count charts, fashion you love, or photos of rewards for progress along the way.
How do you use Pinterest to motivate you? Let us know in the comments!
Anna Fox is the health blogger for fitnessgirls.org, my newbie resource of fitness tips.