Blogs
Submitted by pwtucker80 on Wed, 09/12/2012 - 00:03
While it has been practiced and observed in China for centuries, acupuncture has never found mainstream acceptance in the US. To many, this ancient practice was merely the placebo effect in action, an unproved method of alleviating pain by harnessing the power of the mind through unsubstantiated claims to true medical benefit.
A new study however shows that acupuncture delivers a 30% decrease in chronic pain. While not the first medical study to show demonstrate this, the new study is unprecedented in its size and thoroughness.
Acupuncture's Recent Growth
Acupuncture has grown rapidly in the last decade, with over 3 million Americans using it to help alleviate chronic pain of all kinds. The military now prescribes it as part of the rehabilitative treatment given to wounded war veterans, and California recently passed legislation that includes acupuncture in the list of treatments covered by the nation's new health law.
Submitted by Andrina on Tue, 09/11/2012 - 20:27
This article is written by Jim Banks who writes for http://www.accessrx.com where you can find out the Cost of levitra.
You might be surprised to learn that every person, male or female, has facial hair. For many men, the facial hair grows in darker and thicker, and will require shaving to remove. Unfortunately, some women also have to deal with visible facial hair. According to a recent study done by BristolMyers, more than 20 million women in the United States alone remove their unwanted facial hair each week. Since there are so many different methods and products on the market, it is hard to tell which is the most effective. Here are five different ways for women to deal with or remove unwanted facial hair.
Submitted by Anna Fox on Mon, 09/10/2012 - 00:50
I am a Pinterest addict, hands down. But I didn't start out that way, when I first signed up for the social networking image site. In fact, I could have taken or left it in the first months. Often, I never even looked at my account for weeks at a time. Eventually, I gave it up altogether, until I found my way back a handful of months ago.
What was it that finally made me go gaga for the fastest growing social media site on the web? The many applications for improving health through proper diet, exercise and general feel-good motivation. All things that I had been seeking, and found in the most unexpected place I could have imagined.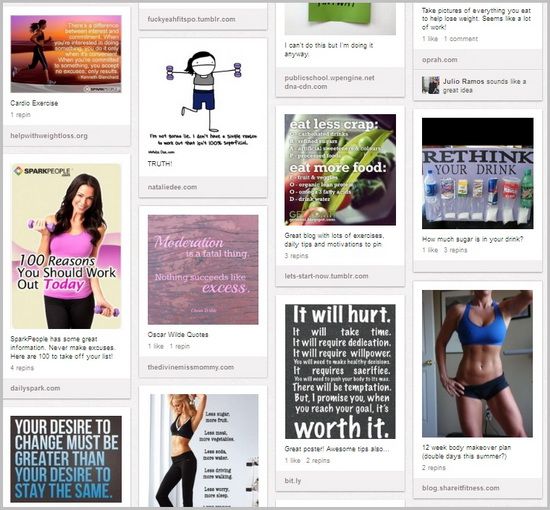 Many people are now using Pinterest to help and fuel their motivation for weight loss. Whether it is a small diet to help you fit into that dress, or you are making lifelong lifestyle changes in the way you treat your body, here are five ways that you can pin your way to a new you.
Submitted by epalmer on Sun, 09/09/2012 - 11:53
Healthy Aging Month was created over 15 years ago in order to promote enthusiasm and responsibility for the physical, social, mental and financial well-being of seniors.
You can get involved with your community in many ways, such as sponsoring a mall-walk, family bicycle ride or hosting a reading night honoring seniors at your local library.
In observance of this celebration, here is some important information gleaned from medical and health experts designed for you to live each day fully and in good health:
Getting to a healthy weight is closer than you think
We are all too familiar with the signs of aging, like wrinkles, wearing stronger readers to browse the morning paper and, of course, weight gain. However, without proper nutrition and exercise to keep you in top form, seniors are also prone to memory loss, decreased brain function and an increase in developing heart disease, osteoporosis and cancer, according to information on WebMD.com
If you're looking to lose those unwanted pounds or simply maintain a healthy weight, it's just a step or two away.
Get Up, Get moving!
Submitted by marksanchez on Sun, 09/09/2012 - 01:26
Teenage is that time of our life when we are most concerned about our appearance to the point of being vain and narcissistic. Ironically, acne hits most people during that crucial period more than any other part of their life. Teens, who spend hours primping in front of the mirror and spend an obscene amount of money in grooming themselves, have to contend with acne. Acne is not the social life-destroyer that it once was, owing to developments in the medical field that can reduce its effects to a great degree.
There are simple steps that can help you control acne and prevent its occurrence.
Keep your hands away from your face
This sounds simple to the extent of being absurd, but the truth is, we spend a lot of our time touching our face to relieve itching, wiping our lips, rubbing our forehead at times of stress and many other random gestures. Sweat, grime and oil from the environment are transferred to our face through our very own hands. There are plenty of bacteria and viruses everywhere that are easily transmitted via physical contact from our hands to our face. It is vital therefore to keep our hands clean at all times and in minimum contact with our face.
Submitted by Deborah Dera on Sat, 09/08/2012 - 07:55
You have probably heard the term "yeast infection" before but the term "Candida albicans" is not as common. Candida albicans is the broad term used to describe the yeast-like organisms that exist in our bodies. While we often think of yeast in terms of irritating infections – like the vaginal yeast infection or oral thrush – the truth is that just about 80% of the population lives with yeast in the body daily. When the body is in proper balance, the yeast lives happily with the other natural bacteria in your body.
There are times when things can get a bit messed up, though. When you are ill or begin taking antibiotics that mess up the natural balance of bacteria and Candida organisms, the Candida begins to grow into what most doctors refer to as an "overgrowth." When this happens, you can develop a condition called candidiasis, where you begin to develop a wide variety of yeast and fungal conditions. These include not only vaginal yeast infections but ringworm, gastrointestinal disorders, fungal skin infections, joint pain, and many other symptoms.
Submitted by jcsem on Fri, 09/07/2012 - 14:07
You know how important it is to get regular exercise, but if it has been a while since you last hit the gym, it can be extremely hard to get back into the habit.
Other people have a hard time getting regular workouts because they are new to exercise and are unsure exactly where to start.
If you are currently struggling to make working out a habit, read on to get the best exercise tips for beginners!
Tip 1: Set Manageable Goals
One of the most important exercise tips for beginners is to set specific goals for yourself—but you need to make sure they are realistic.
WebMD.com emphasizes the importance of keeping your initial plans attainable and relatively low-key because when you just diving back into consistent workouts, your body simply won't be prepared for really strenuous physical activity.
Plus, if you miss a day or end your workout before you reach your goal, you'll end up feeling guilty—even though you should just be happy you were exercising at all.
Submitted by wesleyreacher on Fri, 09/07/2012 - 08:31
Don't have a workout partner to keep you motivated and in the gym? No problem. Just use your smartphone. You're probably no stranger to fitness apps. They have been around as long as smart phones have. Apps can be great tools for tracking your progress and fitness levels, but have been missing a crucial component: motivation. True motivation. Most fitness apps have some sort of cursory form of motivation, like "cheers" that are broadcast through your social networks, but if you don't run, there isn't much of a consequence, at least not through the app.
There are three promising apps that you should definitely check out if you need a little extra boost in the fitness department. They're called:
Submitted by pwtucker80 on Thu, 09/06/2012 - 17:46
Over the last decade the word 'organic' has changed from being an obscure one to a general buzzword that everybody seeks to smack on their produce. These days you can even find organic food in Walmart, and everywhere people are extolling the benefits of eating 'organic', from local farmers to news anchors to foodies.
Yet a recent meta-analysis of hundreds of different studies on the part of Stanford researchers just revealed that on a purely nutrition-related level organic food isn't superior to conventionally grown food. What does this mean for you, and should you stop buying organic?
The researchers looked at over 200 separate studies on the nutritional value of organic food and concluded that other than phosphorous, organic food is not superior to conventional food. This study was independently funded so that the researchers could not be accused of bias.
Submitted by iamjosh28 on Wed, 09/05/2012 - 11:08
Protein shakes are great for bodybuilders and anyone regularly hitting the gym, as they are a fantastic source of protein. If you are an avid weightlifter, chances are that you will need the extra protein in order to gain optimum muscle mass as your diet might not quite 'cut it'. Although a great source of fast-acting protein, these protein powders are not always so flavorsome and some can actually taste quite bitter and 'chalky'.
The good news is that it really doesn't have to be this way; there are plenty of ways to improve the flavor of protein shakes, all you need is a bit of a creative flair in the kitchen. Not only is it quite easy to improve the flavor, but you can also increase the nutritional value of your protein shake pretty easily too, so it's a win-win situation.
Here are a few ways you can make those gritty protein powders more enjoyable:
#1 - Add Fresh Fruit