Blogs
Submitted by louisealvarez on Thu, 03/14/2013 - 14:03
There is no mistaking the comfort and convenience of having exercise equipment in your home. What better way to make sure that you set a good example for your kids than showing them how to integrate daily physical activity in your life?
The problem is that treadmills can pose a number of safety concerns for children. Sometimes young children and treadmills are placed in the same area and competing for the same space. Frequently parents will place treadmills in play rooms in order to multitask their work out while supervising children. Unfortunately without adequate supervision or education, children can, and sometimes do, become injured in the home while playing on or around treadmills.
Submitted by Devin on Wed, 03/13/2013 - 06:00
Foam Roller Stretching - You've seen them laying around the gym, but do you know what they do?
History
A foam roller is exactly what it sounds like for those of you that have never seen one. And foam roller stretching is the first step in any serious workout nowadays. It is the tool used to achieve myofascial release, a vital part of flexibility. Everyone can benefit from improved flexibility - simply because it is a core element of physical fitness.
As we humans become smarter as a species, we learn from injuries of others and we try to prevent them. This forward thinking is something every athlete must keep in mind while performing. Preventing injuries is not hard, and it's not expensive either. Since the beginning of time, back rubs and massages have been considered the ultimate medium to achieve relaxation. And surprisingly it wasn't until recently that they could be thought of as injury prevention. Sports health science exploded in North America after seeing its success in European nations in the 60's and 70's. It is common sense to stretch before any kind of physical exertion, but stretching only goes so far.
Submitted by Paul White on Tue, 03/12/2013 - 13:41
There are many great reasons to love working out, from the increased confidence it affords you, to the way it can help in your relationships, to the way it increases your ability to compete in sports and other physical activities.
However the main thing I love about the gym is that it's action packed. You see I spend most of my time working on the computer, and when I'm not doing that I tend to come home and read or play computer games. It's a sorry state of affairs really because what I actually want to be doing is having adventures and engaging in battles.
I don't really want to play games like Skyrim, I want to live them - but sadly the reality of walking through woods all day carrying a large weapon and attacking animals is a lot less practical and realistic than that game would have you believe.
Submitted by Gareth Evans on Sun, 03/10/2013 - 15:33
When it comes to making the decision over whether buying a large piece of exercise equipment or paying a monthly gym membership represents better value for money, the decision is never a straightforward one.
Over the years, gym fees stack up and you can end up paying an astronomically high price, over the long term, for access to high quality exercise equipment. Buying a large piece of exercise equipment, on the other hand, is a large one off investment; so many people are put off by this.
With people's monthly incomes being forced to stretch ever further in these recessionary times, many gym goers, myself included, are sacrificing a few months of monthly gym fees for the long term investment in a good quality piece of exercise equipment.
When making such a purchase, however, it's important to do your homework. So, if it's a solid, worthwhile investment in a home exercise bike that you're looking to make, the Nautilus Recumbent R514c Exercise Bike could be just the bike for you.
Submitted by Gareth Evans on Sat, 03/09/2013 - 00:00
I don't frequently use resistance exercise bands as part of my workout anymore, but there are certainly times in my life when they have proved useful to me.
Around five years ago now, I dislocated my thumb and broke my scaphoid playing rugby. It was an excruciatingly painful injury and one that ultimately kept me out of the sport, and from lifting weights properly, for about three years. That's when I first discovered the benefits of resistance exercise band training and it was an absolute life saver.
Unable to comfortably grip and lift weights, and bored of doing press ups, resistance exercise band training really gave me another outlook on muscle toning. I could run during these three years, but I've always been an avid lifter, so, with my options limited, discovering this new type of training was a great thing for me. It gave me a way to keep my muscles toned and was an integral part of my rehabilitation program.
Submitted by Gareth Evans on Fri, 03/08/2013 - 01:07
If you ask anyone who exercises regularly whether they like to run, a majority, like me, will greet you with an overwhelming no. We all know that running is a necessary evil if you're keen to lose weight, get trim and improve your cardio fitness. The very idea, however, of throwing on your trainers and pounding the streets for hours on end is usually enough for you to find some excuse not to do it. I know it is with me.
This is why Jennifer Jolan's book, Running Sucks, is such a great find.
Unlike other books on running, Jolan's book is not filled with page after page of useless training routines that make outlandish claims, in terms of their effectiveness, but it is instead based entirely on changing everything about the way that one runs.
How does Running Sucks work?
Running Sucks isn't your run of the mill fitness training guide and it's certainly not for everyone, and nor does it claim to be.
The book is targeted specifically at women who detest the very thought of running and are short on time. Its target audience is those women who begrudgingly make running a regular part of their fitness regime, but would rather not, if only there was another way of losing weight.
Submitted by Gareth Evans on Sat, 03/02/2013 - 00:00
If you're anything like me, you're always on the lookout for new ways of making your training time more effective. I can't say that I'm a frequent user of sauna suits, but I have a couple of friends who are amateur boxers and they swear by it. Naturally, I have tried their suits a few times and you can't argue with the results. You sweat infinitely more than you would during a regular training session and wearing a sauna suit is a great way to lose weight fast.
If my boxing buddies have one complaint, however, it's regarding durability. A lot of sauna suits simply aren't durable and have to be thrown away after a few months. So, after coming across so many positive reviews of the Kutting Weight sauna suit, I have to admit that I was intrigued to find out more.
How does the Kutting Weight sauna suit work?
Made from 2.5mm thick neoprene, and triple reinforced, the Kutting Weight sauna suit is designed for those who are looking to lose weight quickly. Like any sauna suit, the Kutting Weight sauna suit works by trapping heat and moisture, which encourages profuse sweating.
Submitted by matthavoc on Thu, 02/28/2013 - 08:52
Having strong and sexy legs is every woman's dream. However, getting lean, muscular legs may seem like a difficult achievement when busy daily schedules leave you with little time for exercising. The challenge is to find a leg workout that yields the greatest results in 15 minutes or less each day without disrupting time planned for other responsibilities. Fortunately, there are a number of short but effective exercises that target the various muscle groups in the legs. Here are five leg exercises that target the different areas of the legs and, when done correctly and performed regularly, will help you get the shapely, sexy legs you desire. Perform each exercise for a one-minute interval and repeat the sets in three total circuits.
Weighted side lunges
Submitted by Dr. Amarendra on Sat, 02/23/2013 - 00:00
Our diets and lifestyle are of course to blame for being overweight or obese and these have been considered the main factors responsible. However, scientists have now turned their eyes to something much less obvious but which possibly carries almost equal weight–our genes. Geneticists have recently discovered a genetic component to obesity. The past two decades have in fact seen a number of studies in mice as well as humans that have attempted to identify exactly which genes play a role in the development of obesity. Obesity and obesity-related illnesses are a huge burden on health care systems across the world. Thanks to research, this global problem is now better understood on a genetic level. This understanding will enable more effective treatments to be developed.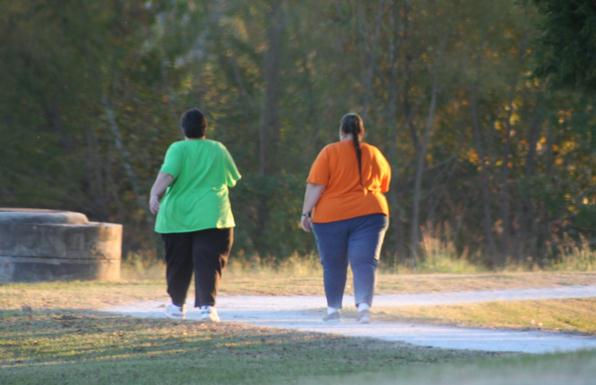 Some interesting facts about obesity
Obesity is defined as the excessive accumulation of fat to the point where it interferes with health and well-being. Just a few established facts will show the extent of the obesity pandemic.
Submitted by Jessica Josh on Mon, 02/18/2013 - 06:09
Recent photos of the pregnant Duchess of Cambridge, Kate Middleton in a bikini and the criticism of actress Jessica Simpson's ballooning pregnancy weight show us celebrities are under a huge amount of pressure. They are expected to stay healthy and fit, even when pregnant.
Weight gain during pregnancy is a desired and expected outcome. A steady gain of 1.5-2kg (3-4lb) per month through a controlled calorie intake is to be celebrated not feared. It is the growing of your body and baby. By maintaining your pregnancy weight gain within the healthy range you are ensuring the kilos will be easier to shift after the birth.
Unlike celebrities, most women do not have a personal chef, prenatal trainer and personal assistant to manage their weight gain or postnatal weight loss. However there are plenty of celebrity tips for maintaining a healthy body and losing weight after the birth. We've listed down a few tips which won't cost you a thing and will keep you looking like a star.