One of the most intriguing technologies to come out on a treadmill is iFit Live. It is found on ProForm and NordicTrack fitness equipment and is designed to motivate you to achieve your fitness goals. Through iFit Live your treadmill can communicate with the Internet, which allows you to download programming. There are primarily two aspects of iFit Live…
Personalized Workout Routines
To start exercising with iFit Live you go to iFit.com and create an account profile. This includes your physical stats, level of activity, and your fitness goals like losing weight, performance or wellness. Next you choose between Jillian Michaels or Elisabeth Hasselbeck as your personal trainer and you select one of their 8 week workouts that they designed. The workouts vary in length, time and intensity. Although you can adjust the level of intensity at any time. Once you made your choices you are ready to workout and get into shape.
When you start your treadmill your personalized workout is downloaded to your machine. Now practically all treadmills come with pre-programmed workouts, but besides getting a personalized workout designed by a professional trainer, there are two other noteworthy features. First, each workout comes with audio coaching . Therefore, you get encouragement and motivation from either Ms. Michaels or Ms. Hasselbeck. Second, when you finish your stats are recorded to your iFit.com account. This allows you to track your progress. In addition, there is a feature that lets you see your progress in burning calories and reaching your goals. Studies have shown that those that track their fitness progression are more inclined to reach their goals.
Run the World With Google Maps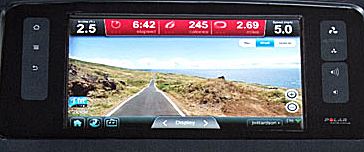 This is the iFit Live feature I found most intriguing. Through you iFit.com account you can track routes to walk or run on Google Maps, or you can choose existing routes through the iFit library that include running through Central Park, the lakefront of Chicago, Yellowstone, Cape Town South Africa, the Arches and more. Once you have selected a route your treadmill will simulate the terrain with the incline feature. With several of the more pricey ProForm and NordicTrack treadmills the deck actually declines, therefore allowing you simulate going up and down hills and mountains.
Now this is where it iFit Live goes over the top. With the use of a laptop or smartphone you can visualize you progress. In fact, if Google has a live view of the street, you can actually see a photographic rendition of the route as you run or walk. I was able to trace a route in my neighborhood and as I was running on my treadmill I could see familiar sites like the old oak tree and the local pond. Both ProForm and NordicTrack equip their higher priced treadmills with full color tablet displays that are powered by a Google Android browser. Consequently, you do not need a laptop or smartphone. You can get the full visualized affect through your console.
Will
iFit

Live Motivate You to Lose Weight?

So is iFit Live beneficial and will it help you to burn more calories and get into shape? The personalized workouts are ideal for individuals who need some motivation. Having a scheduled routine and being able to track your progress is exactly the incentive many people need to succeed.

With regards to Google Maps, this feature helps to overcome the boredom of exercising in place. The problem with exercising on a treadmill is you continually walking or running and you are never getting anywhere. Visualizing your progress takes the boredom out of treadmill exercising. Also, you can create a variety of challenges running routes throughout the world.

Is iFit Live right for you? That depends. If you need some motivation or distraction when you exercise on a treadmill, then it is a good fit. However, if you are self motivated and are quite content with running or walking to music or TV, then iFit Live is an unnecessary feature. Although, from the feedback I get from Icon Fitness, parent company or ProForm and NordicTrack, there are tens of thousands of iFit Live users who are addicted to this technology.

About the Author

Fred Waters has worked in the fitness equipment industry for the last 17 years and is the author of http://www.treadmill-ratings-reviews.com/. The site provides reviews and ratings on over 100 popular treadmills. In addition, you can find helpful information through his "Treadmill Buyer's Guide".